Cascadian Flag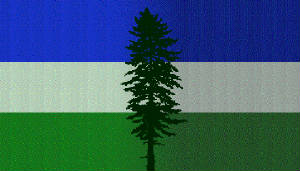 or just the "Doug"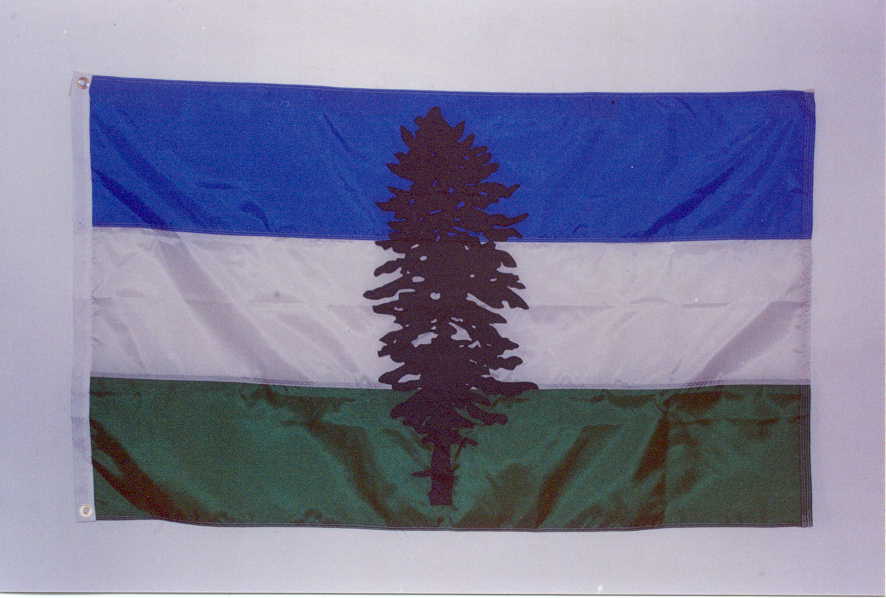 The family owned small business named smALL FLAGs sells the Cascadian flag AKA the Doug. smALL FLAGs also sell Doug Patches and the Doug Shield which can be sewn on to sleeves or backpacks. http://www.smallflags.com/flg/Cascadia.htm





This flag was conceived in 1995 when Alexander Baretich was sitting on a hill in Eastern Europe homesick for the conifer trees he grew up with. Earlier digital imagines of the flag were not how he originally imagined it. Most of those early digital versions displayed a full color tree. Eventually in 2004-2005, the full color conifer was replaced with the silhouette of a Douglas Fir which then matched the original idea of the flag. The flag is also called the Cascadian flag or just Doug for short. The tri-colors of blue, white and green has been a continuous series of colors applied to the region known as Cascadia, the Oregon Territory, Ecotopia, Chinook Ilahee, Pacifica, the Pacific Northwest, the NorthEast Pacific and all the other names this region comes to be called. The blue represents the unpolluted sky, the Pacific Ocean and the rivers and lakes that flow in Cascadia. The white represents the clouds and snow. The green represents the forests and fields. The conifer tree found in a variety of species throughout the bioregion stands in defiance of storm, fire and Man. The conifer tree as the Douglas Fir, the Redwood, the Cedar, the Spruce, the Pine and all other Evergreens can be found in many of the various political and social organizations throughout the bioregion.
.
Cascadian "stik sil" (tree flag in Chinook Jargon)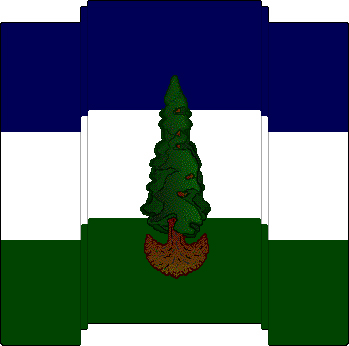 Earlier version of the Tree Flag
The "Doug" has undergone some evolution as it has reached its current incarnation. The earliest digital version was posted at first in the winter 0f 1996-1997. It was inspired as its designer was homesick for Cascadia and was looking out at another beautiful landscape and thought of a fir tree with a Cascadian landscape as backdrop with green hills often clad in white-grey clouds and a patch of blue momentarily cleared above.
Tumchuck Ilahee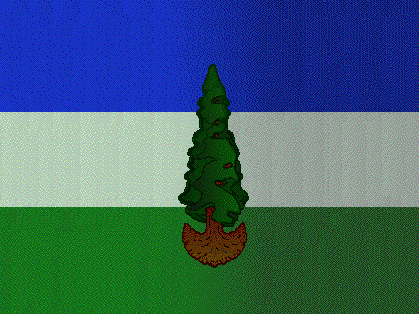 another earlier version
Moola Stik Sil (Douglas Fir Tree Flag)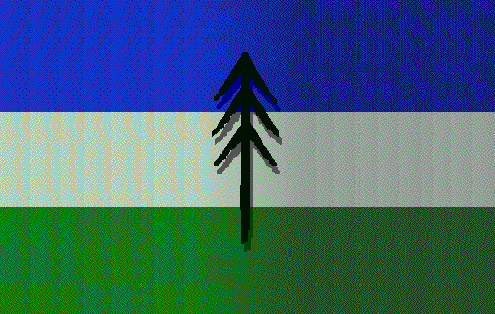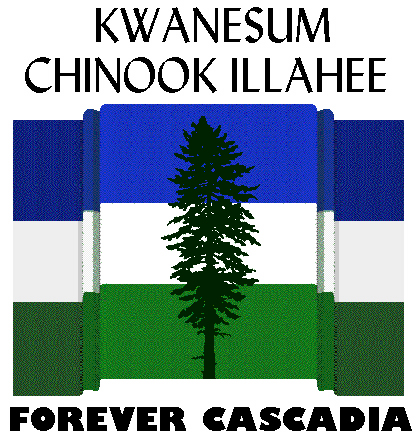 .
Orygen, Orygun, Oregon, Oregonian, Washington, Warshington, Idaho, Montana, Northern California, Alaskan panhandle, Panhandle of Alaska, Cascadia, Cascadian, bioregion, bioregionalism, Bioneer, Cascadian Flag, Doug Fir, Humboldt, bioregional, sustainablity, Ecology, Equality, Equity, Ecotopia, Ecotopian, Chinook Ilahaee, Chinook Ilahee, Tree Flag, Doug Fir flag, Doug, Cascadia flag, Seattle, Portland, Cascades, secession, secessionist, secessionism, quiet revolution, velvet divorce, evergreen divorce, Evergreen Revolution, disengagement, Peak Oil, eco-rickshaw, hemp, hazelnuts, filburts, apples, camas, stinging nettles, support local economies, support local economy, watershed, biodiversity, Cascadian Flag, Blue White and Green, Free Cascadia, Cascadian Food, Cascadian farms, Ashland, Bellingham, Victoria, Haida Gwaii, Skagit, Kamloops, Olympia, Tillamook, Salem, Eugene, Bend, Spokane, Newport, Aberdeen, Centralia, Coos Bay, Astoria, Eureka, Oregon City, Vancouver, BC, British Columbia, Panhandle of Alaska, Alaskan Panhandle, Continental Divide, Puget Sound, Columbia, Alberta, Willamette, Frazer, Re-Unification, Reuinification, Re-Unify Cascadia!, One Cascadia!, Salmon, Fir, Bigfoot, Mt St Helens, Mt Hood, Mt Baker, Republic of Cascadia, Pacific Republic, Republic of the Pacific, Pacifica, Cascadian Republic, The Peoples Republic of Cascadia, Pacifica Republica, Bioregional Cooperative Commonwealth of Cascadia